Every time I think about why I like the open web, order I basically think of how well it fits with the way I learned to use and program computers as a kid: my first computer, treatment an Atari 400, buy came with everything I needed to do programming, and I (or my parents) didn't have to spend hundreds of dollars or sign an NDA to get a development tool.
My favorite technical book as a child was Creating Adventure Games On Your Computer, which contained plain BASIC code for games that you could play, augment, and make your own. A column in one of my favorite magazines, 3-2-1 Contact, featured the same kind of content.
All of this was easy enough for a child to grasp—often far easier, as Jef Raskin observed in The Humane Interface, than today's development tools. But being able to use a tool that provided an incredibly low barrier to generativity is something that I value a lot about my childhood. It's in part where a lot of the real passion and excitement for open source and the Open Web come from: people like me see in them the qualities that made them truly excited about computers as a kid. Qualities that we're constantly in danger of losing today as the field becomes more professionalized and controlled.
So that got me thinking about Drumbeat again: what if promotional materials for the Open Web focused on how it makes lives better for children who are budding hackers? Lots of adults aren't tech savvy, but they know that their kids are, and if we can prove that the Open Web is better for their kids, and that they can make their kids' lives better by choosing a standards-compliant browser, maybe they will.
After playing around with this idea for a bit, I came up with this: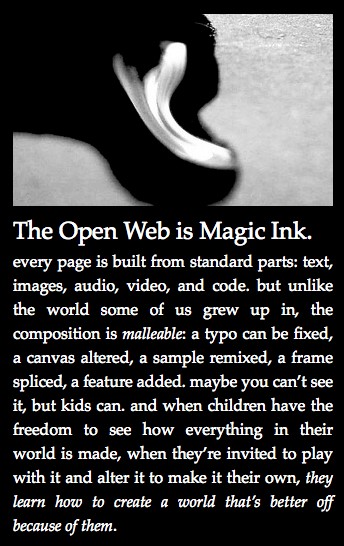 The photo on the page is taken from Flickr user .sick sad little world.'s The Taste of Ink. Feel free to get the source and remix!