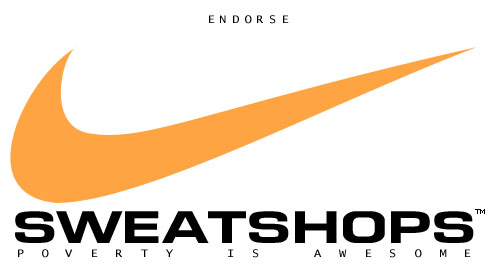 Frequently Asked Questions
Q: What happens if the employees at a Nike Sweatshop™ demand higher pay or better working conditions?
A:At Nike, we're devoted to keeping our investors happy. That's why when our workers demand any of those things, the first thing we'll do is say hell no. That's because if we did succumb to their desires, our profits would drop, which is bad news for Nike shareholders. Before we set up a Sweatshop™, our location scouts carefully determine the optimal community in which the factory can offer the worst possible working conditions while thriving at the same time. That means we have to find an area with record unemployment, so our workers have no choice but to work at Nike!
Now, sometimes it could be the case that, over a long period of time, a Nike Sweatshop™ inadvertently improves the economy of the country it's in, to the point that all the unemployment that once existed is no longer present. When this happens, the poverty resources of the area have been depleted. However, Nike undertakes many precautions to ensure that the community's economy is always dependent on their Nike Sweatshop™ for survival. For instance, because we pay our workers a subsistence salary, they don't receive enough money to put any of it into savings, so it's very hard for them to start a business of their own to bolster the local economy. Because of the boon that Nike provides the community with, odds are that the government wouldn't feel a need to help the community at all, so no government jobs or services should be present in the Sweatshop™ community. If necessary, Nike will set up extremely inadequate and low-cost services so the government doesn't have to.
In other words, all this means that in the vast majority of cases, the Nike presence is the very foundation of the community's well-being. That means that if we close the Sweatshop™, the community's economy, and any other benefits provided by our services, will be destroyed. So again, the people have no choice but to work at Nike for the wages that we determine!
In the rare case that the subsistence salary is driven too high, we simply close shop, let the local economy flounder, and set up a new Sweatshop™ somewhere else in the world—there's plenty of poverty to go around! After time has passed, the local economy will have deteriorated back to its original state, at which point Nike can set up shop there once again and reap massive profits; this idea is actually quite analogous to the field rotation technique that farmers use to harvest crops.
Q: What happens if you find a place where you can pay your workers an even lower subsistence salary?
A: That's easy—we just move a Sweatshop™! We do this by abandoning one of our existing factories, ditching all its workers and probably crippling the area's economy (don't worry—this won't hurt investors at all), and setting up a new Sweatshop™ in the more optimal location. This ultimately benefits our investors, of course, because our profit margins will increase.
Q: What happens if the world runs out of poverty?
A: Nike is doing everything it can to prolong the existence of this profitable resource. Firstly, any services it runs in any Sweatshop™ community are oriented towards keeping the community at the poverty level. For instance, any schools we establish will only offer a very low level of education, and since we establish and run these schools, the government won't find a need to establish better ones. With these kinds of extremely low-cost "placebo" services that substitute for government institutions, not only will the community be crippled if Nike leaves, but we will also have the ability to shape its agenda towards our ends: the maintenance of poverty and subsistence wages.
It should be noted that if Nike educated the Sweatshop™ community well and actually encouraged its people to "pursue the American Dream", then the community would eventually prosper, subsistence wages would rise, and Nike would have to move the Sweatshop™ to a new poverty-stricken location in order to maintain profits. Not only would such services cost us money and reduce our profits, but they would also be working against the company's goal: we would be spending money that would ultimately raise the local subsistence wage, thereby lowering our profits further, ultimately requiring us to close the Sweatshop™. Furthermore, once Nike abandoned the Sweatshop™, the Nike-provided institutions and economic foundation of the community would be lost, so it would eventually flounder its way back into poverty. In all cases, therefore, money used to enhance the community beyond a level intended to maintain poverty would be ill-spent.
[ Back to the Nike Sweatshops™ Homepage ]